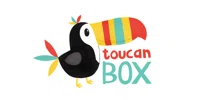 We received our toucanbox last week, we were able to do one of the crafts (only one because both my daughter and I were not feeling good).
The crafts are easy for younger kids, and very easy for older kids to do by themselves. Our box came with 2 separate crafts to do, each kit containing 2 sets each.
toucanBox (
www.toucanbox.com
) is an award-winning subscription service that sends a monthly box of creative, science and craft activities to children aged 3 to 8 years old.
Each box is themed and contains everything needed to keep children engaged for hours in an educational and creative way. Boxes include all the materials to complete the projects, colourful step-by-step instruction manuals and a STEAM-inspired magazine.
Our boxes are delivered monthly, contain 2 activities and fit through the letterbox ($12.95 + $1.95 shipping).
Each craft is designed to stimulate children creativity and curiosity and to encourage key development skills such as concentration, numeracy, fine and gross motor skills, and problem-solving.
The boxes are tailored to suit each child own development stage, and the content of the box will differ accordingly.
Additionally, the toucanBox website also provides online resources for extra discovery around the month's theme and additional craft ideas are available each week on the toucanBox blog (
www.toucanbox.com/activities
).
The company was founded in 2012 by Virginie Charles-Dear, a mother of three very inquiring preschool children and former corporate executive with strong experience in technology and e-commerce. Together with friend Sara Barokas, a former Montessori school teacher, they developed the concept of toucanBox to provide a solution to busy parents who, despite their best intentions, often lack the time and creativity to put together craft projects. toucanBox removes the stress of pre-planning and shopping for materials, enabling families to spend quality time building, imagining and creating together.
toucanBox is exclusively available online at
www.toucanbox.com/us
. We're regularly featured in the media and have recently won the Academic's Choice Award (Brain Toy category)
First Box only $5 including shipping instead of RRP ($12.95+$1.95 shipping)
use code: AJENKINS979
Definitely for younger kids, My 10 year liked it.
The instructions are very easy to read and straight forward. The kit comes with everything you need, except scissors.
This subscription box is really great for younger kids, and since I no longer have those; this box is not for my family.
We did have fun though. We will be working on that second kit.
*We were not compensation for this post. Opinions are our own. We did receive product for free in exchange for a review. This post may contain affiliate links, and referral links.